This is the last part of a group of 6 POSTs that I would like to edit about sports preparation for ultramarathons, which are very important to me and I really enjoy participating in these tests.
Sixth part:

"If we are not capable of learning from mistakes, we will never achieve excellence in what we do."

That is why "Lessons Learned" is the last phase of PMBOK that you should never forget and keep on record to read and understand for the next challenge.  
"Lessons Learned" prevent us from making the same mistakes in projects and similar challenges in the future.

It is very common to undertake a complex project and after a few years repeat it because another client wants something the same or similar. In this case, it will be crucial to have written down everything on the digital platform that the ERP represents, so we can consult and clarify doubts so as not to repeat the mistakes of the past.

In this POST about the XCUM ultramarathons, our team is going to tell you about the lessons learned from the years 2021 and 2022.
Óscar Santana

Lorenzo Ruggeri

David Villarocha

Daniel Plá
Learned lessons - Óscar Santana
In other ultras I have handled the issue of water badly, since due to my height of almost two meters and my weight I usually drink more than the rest.
It must be taken into account that in these tests you go from the cool of leaving at 6 in the morning, to going through the hottest hours of the day climbing ports that in some sections the sun hits you directly without any shade.
Learned lesson 1:
For me, an improvement compared to the previous ones has been the backpack with a water tank to be able to carry that extra water in the central hours of the test.
We lost a lot of time at the aid stations, for me we were very relaxed.
Learned lesson 2:
Be more agile when making stops. Apply it in training and practice it until we internalize it and see it as something normal, the express stops.
---
Learned lessons - Lorenzo Ruggeri
On the fast slopes down the track, my companions were leaving me due to their greater weight, since I am more of a climber's profile and not so much of moving a lot of power on the flat or downhill.
Learned lesson 1:
In training, put these cases into practice and train them to avoid wasting time on the flat. It can be complemented with gym sessions in winter to generate more power in the pedal stroke, as well as with the electro stimulator with 'strength-resistance' sessions.
I took the heat very badly due to poor food planning at the beginning of the race and the lack of hydration at key moments of the test.
Learned lesson 2:
Perform feeding tests in training, especially in those that emulate an ultra marathon test. Leave nothing to chance on these issues.
The food for the next ultra will be refrigerated by the provisioning team, so it fits much better when the heat is merciless.
In the two ultras that I have participated this year I have suffered at the start as it comes out quite quickly. It's hard for me to go from 0 to 100 that fast.
Learned lesson 3:
In training, practice this type of start, doing series blocks in Z5/Z6 for 5' at the start of long-distance training. With this we emulate the fast starts a bit and then the kilometers and hours that lie ahead of us in the tests.
In the case of doing the test in pairs, it is important to know your fatigue partner very well.
Learned lesson 4:
In this case, everything went well and it is something that must be internalized. To carry out a test like this with a partner, you must train for many hours with him, that was our case and the result was great rapport and camaraderie, something that had not been the case. so in other ultras.
In the ultra there are always crises and normally they don't affect both equally, so it's about knowing how to interpret the gestures and words of your partner and help him when he suffers a crisis. We must also be attentive to food, rhythms, etc. of the partner so if we see something out of the ordinary we can warn him, since we are a team and we must act as a whole.
---
Learned lessons - Daniel Plá
Year 2021
Two months before the first test marked on the Gigante de Ruidera calendar, which was held on May 22, I suffered a stupid fall that caused me strong blows to both knees.
I tried to save the state of form and did almost no rest, which caused me a bursitis in one of the knees. In the end based on physio, ice, etc. I managed to overcome it, but it caused me to lose shape and, for example, not being able to fully complete the Small Stone Giant test in which I gave up due to medical prescription when I had completed 50% of the test.
Learned lesson 1:
Respect the instructions of medical professionals in case of injury. Comply to the table as indicated.
A few weeks before the tests, be especially careful with falls.
During the Gigante de Ruidera test I did not fully take into account the central hot hours and the dry environment to which I am not accustomed and which caused me a more acute sensation of thirst.
Between two aid stations 5th and 6th, La Ossa de Montiel and Carrizosa, there were 48 kms. Between the heat and the terrain that was more demanding in that area, I ran out of water. I suffered for an hour going without water, but I was able to bear it and reach Carrizosa. I had a small 500ml Camel back and I missed taking it.
Learned lesson 2:
In the following year, 2022, I took the Camel Back in Ossa de Montiel and it allowed me to ride very comfortably, much more than in the previous year.
The dry climate of the Albacete area and the basin through which the Gigante de Ruidera runs made it difficult to eat solid food during the hot hours. It cost a lot at the same time that it caused nausea.
Learned lesson 3:
In 2022 from mid-career I only took gels and if I saw that my stomach responded I would try a little solid, like a quince and cheese sandwich.
The first year of Gigante de Ruidera, due to the heat, I suffered cramps from kilometer 100 until the end of the race.
Learned lesson 4:
I had electrolyte capsules with me and I took them every time I had a cramp.
But one of the most valuable lessons for these cases is to reflect:
When in an ultra you have not had cramps? In my case never, they always appear sooner or later no matter how much I hydrate.
To prevent this from affecting us, we must be aware that they are going to appear and when they do:
Don't get nervous and don't panic.


Change the postures a bit, stand up and stretch your legs, back, etc.


Slow down a bit and breathe well.


If we need to stop a bit and stretch, we stop.

Doing this personally, they leave me, even if they come back after a while, I repeat this pattern and so on until I finish.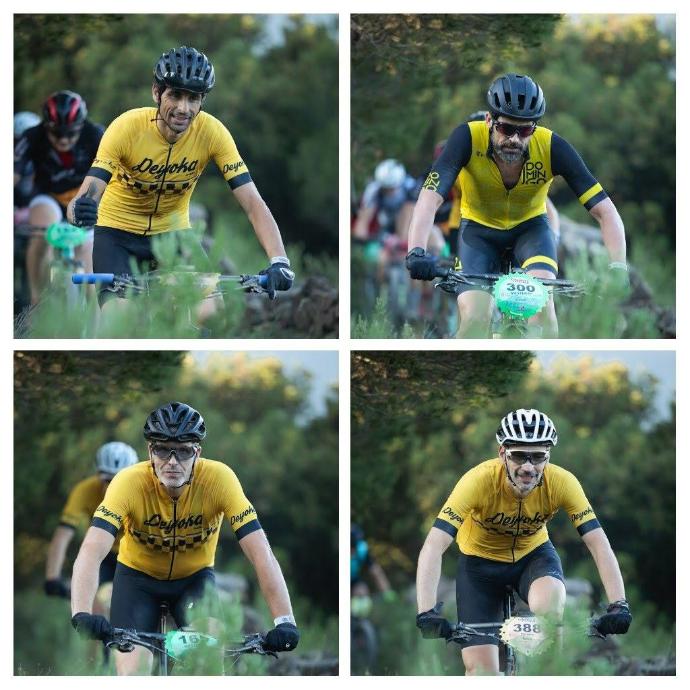 Year 2022
The day of the Gigante de Piedra test I fell down a path and bent the derailleur hanger, trying to lower it completely. This caused the gearbox to not work perfectly, many pine cones were jumping.
After 50 km like this and having stopped three times, I finally stopped more calmly and straightened the hanger and the problem was solved.
Learned lesson 5:
As it is such a long test, you have to take the technical descents easy and if necessary you get off the bike and do it on foot, by saving a minute you can ruin the test and the months of preparation.
In 2022, the Stone Giant celebrated its 10th anniversary, it ran along a route which crossed a new area and added an extra 500 positive meters to the accumulated total.
I went to train that part and it didn't seem as hard as the day of the test.
Those 500 more meters accumulated took their toll on me and the last 40 kilometers I suffered a lot to keep up.
Learned lesson 6:
In the case of doing that route again, I will take more into account not to empty myself in this new section, especially the area that you walk with the bike on your back, which is around 20'.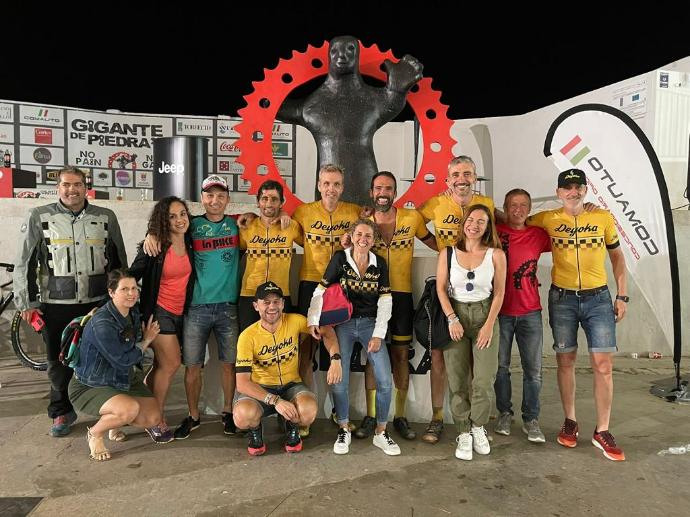 Objectives and results

In engineering projects, in ultramarathons, in studies, etc. objectives must be set to measure performance, if we do not have goals we cannot have indicators that show us if we are aligned with what was planned or not.

Daniel Plá:
I set myself the goals of finishing in the top twenty and my results were:
2021
Gigante de Ruidera 
Overall position: 6º

Position by category: 1º
Gigante de Piedra 
Overall position: 57º. Due to a breakdown that made me stop for 45 minutes, I lost any chance of finishing in the top 20

Position by category: 20º

2022
Gigante de Ruidera 
Overall position: 4º

Position by category: 1º
Gigante de Piedra 
Therefore, the objective when there have been no external problems has been met thanks to the planning described in these posts.

Lorenzo Ruggieri / David Villarocha:

The objective of this duet of the ultra marathon team was to compete in Gigante de Ruidera looking for the podium in the couples category.


The second objective that they set for this year was to perform Gigante de Piedra in a group together with other members.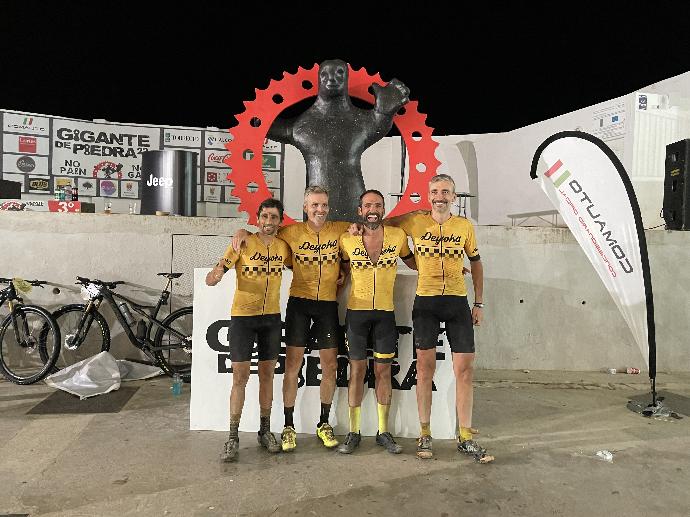 2022
Gigante de Ruidera:
Couples category position: 3º
Gigante de Piedra:
The objective of these four members of the ultramarathon team was to finish and enjoy the group test, which was made up of:

Lorenzo Ruggieri

David Villarocha

Oscar Santana

César Otero
The four of them managed to finish the test with flying colors and enjoy the experience of carrying out a race of this extreme hardness in a group, helping each other with the problems that arose to be able to cross the finish line together.
As already noted, without proper planning none of these objectives would have been met.

We hope you have enjoyed this series of 6 POSTs about ultramarathons, you will find POSTs 1 to 6 on our news blog.